Digital X-Ray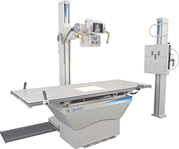 There are no preparations needed for the X-ray exams.

Our x-rays are performed on a Quantum DR (Digital Radiography) system with the Odyssey HF generator, which obtains ultra high frequency imaging. Together, these systems will:
Maintain the lowest radiation exposure dose
Shorten imaging time to reduce patient waiting
Deliver full-service x-ray examinations with precision and efficiency

MRI
Mon - Friday 7:30 a.m. to 7:30 p.m.
CT and X-ray
Mon - Friday 9:00 a.m. to 5:00 p.m.
Ultrasound
Mon - Friday 8:00 a.m. to 5:00 p.m.
Saturday and Evening Appointments available as needed