3T Large Bore MRI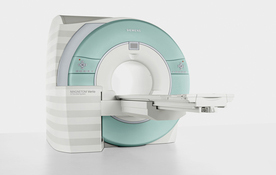 Our new Verio 3T MRI is in over 300 major medical centers in the U.S., including Cedars-Sinai, UCLA, UCSF, Hoag and City of Hope. Many months of investigation, planning and preparation have resulted in AMI making available to our referring physicians and patients what we consider to be the most advanced and diagnostic MRI scanner available today.
Verio 3T MRI Imaging Benefits:
With a three to four fold higher signal-to-noise ratio than 1.5T scanners, Verio 3T MRI studies of knees, shoulders, ankles, joints and spines are clearer, more detailed and take less time than 1.5T studies
Superior neurological imaging shows anatomic details that have not been seen before, such as concussions, other cognitive impairment and magnitude of scarring showing extent of damage to multiple sclerosis patients
Improved 3T MRI abdominal imaging studies include hepatic, renal cancer, cancer staging and female pelvis/gynecology imaging
Greatly enhanced 3T MRI prostate imaging looking for cancer without the need for an endorectal coil
Claustrophobia and Anxiety Reduced:
At Last! Most patients can now be scanned using the best 3T MRI technology who formerly could only be scanned on low field strength open MR systems.
Large 70 cm bore greatly reduces claustrophobia in patients
Siemens Verio is the shortest bore 3T system
Shorter scan times aid patients with pain, mobility and respiratory issues
Sharper images result from less anxiety-related movement
Expanding Care to a Wider Range of Patients:
Large patient population (up to 250 kg or 550 lbs)
Pediatric and elderly patients

MRI
Mon - Friday 7:30 a.m. to 7:30 p.m.
CT and X-ray
Mon - Friday 9:00 a.m. to 5:00 p.m.
Ultrasound
Mon - Friday 8:00 a.m. to 5:00 p.m.
Saturday and Evening Appointments available as needed